About Us
40+ Years Of Mastery
Booking In Your Town Now!
Make An Appointment Today!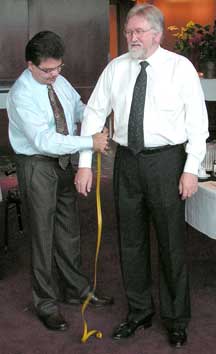 Custom tailored clothing at its finest will be yours when you work with one of the world's most well-known Hong Kong tailors. For over three decades, Daswani Tailors has been synonymous with elegance and dignity in custom tailoring.
Our master tailor—Ken Daswani—is one of the very few custom tailors who has acquired training directly from traditional Shanghai craftsmen. With over 40 years of personal experience, Mr. Daswani has satisfied customers from all professions in the USA, Japan, Australia, Canada and Europe.
When you have an appointment, Mr. Daswani and his associates will determine your individual requirements, discuss your options, and suggest the best wardrobe choices befitting your personality and profession.
They take about 30 different measurements and also take photos of your body posture. You'll be shown a variety of styles and fabrics, and they'll assist you with choosing the perfect garments to enhance your wardrobe.
Our master tailors in Hong Kong then use the measurements and photos to make a paper pattern for each individual customer. The custom clothing is handmade in Hong Kong, a duty-free port. This allows us to import the finest fabrics from designers around the world and still keep our prices affordable.
Mr. Daswani and his associates have the combination of training, experience and fashion sense to help you look your best for any occasion. Whether you require formal wear for a special occasion, suits or uniforms for work, or fine tailored casual clothing, they'll assist you with choosing the perfect styles and fabrics and deliver your clothing on time.
Get In Touch Today!
If you have any questions or would like to schedule a free consultation, contact us today!
About Custom Tailoring
Precise measurements assure proper fit, regardless of style or fabric. We record over 30 measurements. All your garments will be expertly tailored, hand-cut, and hand-finished by skilled Shanghai-trained craftsmen. We suggest you wear your favorite suit at the time of being measured.
Your Body Form
We make a detailed record of your body form which assists our cutter to take shoulders and standing position into consideration. We help you select your style and cut and provide advice on the most flattering garments.
Paper Patterns & Custom Cutting
Your personal patterns are first drawn on paper and then onto fabric. Each garment is individually sketched from initial outlines and patterns before any fabric cutting begins. We keep paper patterns for your future orders so re-ordering can be as simple as picking up the phone. We also keep a complete record of every suit, shirt, jacket and pants that we make for you. With this reference for all your fabrics, it's simple for you to see what you have and what you might want to add to your wardrobe.
Do You Have A Favorite Garment That You Would Like Duplicated?
We'll be happy to tailor it for you. Just choose the fabrics from our wide selection. We can duplicate uniforms or other special garments also.
Minor Alterations
In the unlikely event that your new garments need minor alteration, simply send us the bill for reimbursement. It's important for you to inform us what the exact alteration was, so that we may correct your file for future orders. We keep paper patterns for your future orders.
If you're ready to find out how convenient and efficient it can be to order custom-tailored clothing, contact us to set up an appointment.
Get In Touch Today!
If you have any questions or would like to schedule a free consultation, contact us today!

"Ken offers his excellent service right to the door of your business office or home. He did an outstanding job fitting and measuring me, without cutting corners, for wonderful custom made suits I wear daily that were very reasonably priced.
"Most impressive though is his outstanding follow-up and attention to detail. I would highly recommend Ken when you've decided to take your wardrobe and professional appearance to the next level."

"Ken takes the hassle out of buying. No more driving to the mall to try and find a suit. Personally, I hate shopping so when Ken comes to my office it's a big relief. I need to look my best, but don't have the time or know how to do it right. I need to focus my energy on running my business and not waste my time driving all over the planet. Plus, his custom suits and custom shirts are outstanding AND less expensive than what you'd typically pay for an 'off the rack' suit at Nordstrom or Saks.
"I would recommend Ken to anyone who values their time and wants to make a great first impression."
Booking In Your Town Now!
Make An Appointment Today!